The old hardback edition of
Numbers: Facts, Figures and Fiction
The new and fully revised second edition of Numbers: Facts, Figures and Fiction was published in paperback in 2004. A limited number of copies of the old 1994 edition are still available for sale to addresses in the UK and Europe. They may be of interest to anyone who particularly needs a hardback edition. But please note that the second edition is cheaper, has more pages and is more up to date.
The price is £20. Add £2.50 for carriage to any UK or European destination. Send a cheque payable to 'Badsey Publications', or an official order from a recognised UK educational institution. Orders to: Badsey Publications, 4 High Street, Badsey, Evesham WR11 7EW, England. Alternatively order through PayPal by clicking on the button below.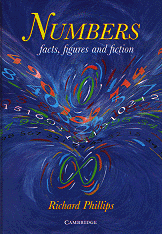 Numbers: Facts, Figures and Fiction.
First edition in hardback.
Published 1994 by Cambridge University Press.
96 pages in full colour.
ISBN (10) 0521464811
ISBN (13) 9780521464819
---
Note: the ISBN number 0521540488 (or 9780521540483) is for a paperback edition of the book that was never printed. We have seen an internet bookseller offering to sell this edition for 135 US dollars! But we know for certain that Cambridge University Press never produced this edition.
---